Ansel B. Chaplin Award
 The Ansel B. Chaplin Award honors an individual or group that has demonstrated inspirational excellence in the protection of open space on Cape Cod.  The award is named after the founder of The Compact of Cape Cod Conservation Trusts, Inc., Ansel B. Chaplin of Truro.  Nominations are open to the public, vetted by a Nominating Committee of The Compact's board, and voted on by the full board of directors each spring.  Honorees are announced at The Compact's annual meeting each summer.  Their names are inscribed on a pewter plate displayed at the Hay Conservation Center (Compact office ) in Brewster.
2002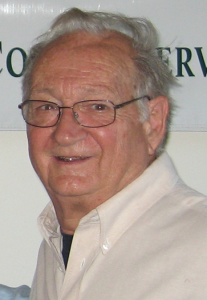 Ansel B. Chaplin conceived the idea of The Compact in 1986 and served as its President for 15 years.  While maintaining a law practice in Boston and Truro,  Ansel also joined in the founding of the Truro Conservation Trust in 1980 with  Dr. Charles Davidson and served as its Administrative Trustee for 24 years.  Ansel guided the first conservation land acquisitions by the Town of Truro in the mid-1980s, including the $3 million purchase of land at High Head, assembling state and federal grants and private donations, so there was no cost to the Town.  He led the effort to create and grow The Compact's revolving loan fund, now capitalized at more than $600,000.  Ansel's wisdom and experience now guides the Truro Planning Board.  His roots on Cape Cod go back to the first settlers. He enjoys canoeing in his beloved Pamet River. He died in 2017.
2003

D. Isabel Smith was the beloved Mother of Open Space in Harwich for 20 years  before she died in 2006.  Recently retired to Harwich from Dorchester in the 1980s, she rallied first her neighborhood and then the townspeople to preserve land at Oliver's Pond.  She caught the land conservation bug and helped to found the Harwich Conservation Trust in 1988 and served as its Vice-President for many years.  When the Cape Cod Land Bank was approved in 1998, Isabel began negotiating deals for the Town of Harwich as Chair of the Real Estate and Open Space Committee.  Under her leadership, Harwich completed 17 acquisitions preserving 338 acres worth more than $15 million.  She coordinated the complex 42-acre Monomoy River Woodlands purchase, which was dedicated in her honor.  Isabel was a long-serving delegate to The Compact, including a stint as its Vice-President.  Her warmth was enjoyed by every person she met.
2004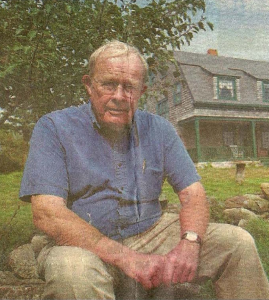 Charles H. Thomsen began his conservation career in the early 1960s when he helped to coordinate a conservation restriction on his family's Pochet   Island in Pleasant Bay with the Cape Cod National Seashore.  He joined the board of the Orleans Conservation Trust 20 years later and then served as its President for almost another 20 years.  Charlie's interest in shellfish, marine water quality and historic preservation led to leadership positions on town boards and societies associated with those issues, including the Friends of Pleasant Bay and Orleans Historical Society.  As a Realtor, Charlie was one of the brave few who spoke out in favor of the Cape Cod Land Bank        proposal.  As a Korean War veteran, he testified in favor of converting the Mass. Military Reservation into a wildlife refuge and water supply reserve.  Charlie served as a founder of The Compact and its Treasurer for many years.  The Compact's Land Fund is named in his honor.  He was a very   generous man, with his time and talents and good humor.  He died in 2006.
2005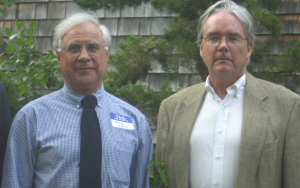 Henry Kelley II (left) received the Chaplin Award from Richard Johnston, President of The Compact.  Mr. Kelley was honored for his conservation      efforts over the past 30 years in the Town of    Dennis, including his chairmanship of the Dennis Land Bank since 1999, which resulted in more successful open space deals (28) than almost any other Cape Cod town.  Henry was instrumental in guiding the grass-roots campaign to get Cape Cod voters to accept the Land Bank in 1998.  His 1970s fiscal impact analysis of how open space helps a town treasury is still cited by admirers.  "The work of land conservation is never done!" he says.
2006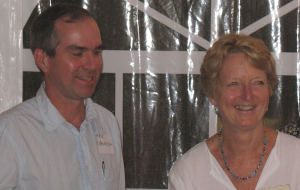 Susanne Goodman Hallstein (right, with Mark  Robinson) taught in the Falmouth Public Schools for 27 years.  Somehow she also found the time to serve as President of The 300 Committee, Falmouth's land trust, from 1999 to 2005, during which time she led the effort of the Town to purchase and preserve 900 acres.  Ms. Goodman Hallstein also led the land trust's campaign to raise $7.5 million in private funds for open space from 2002-2004.  In presenting her with the Chaplin Award, Compact Executive Director Mark Robinson (left) said how impressed he has been with Susie's ability to deal with a large board and town officials with such graceful command.
2007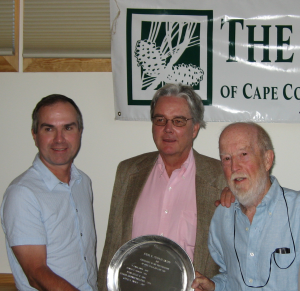 Robert G. Hankey (right) was an early trustee of the Wellfleet Conservation Trust in 1984 and served until his death in 2012, including long stints as President.  He was an early and enthusiastic advocate for the idea of the regional Compact and helped to raise funds for our revolving loan fund.  Retired from the US Foreign Service, Mr. Hankey has been active on the zoning board and charter review committees in Wellfleet town hall.   Under Robert's leadership, the land trust in Wellfleet has       preserved more than 300 acres and secured the state designation of the Wellfleet Harbor as an Area of Critical Environmental Concern.  Many landowners know Robert as the "friendly pest," asking them when they are going to preserve their land; often, they give in and give it!    (l to r: Robinson, Johnston, Hankey)
2008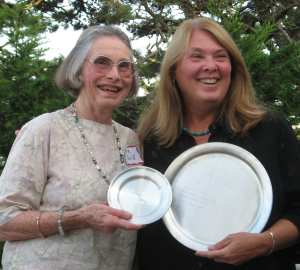 Anne G. Gould  was a  founding trustee of the Mary Barton Land Conservation Trust in 1980.  She immediately set to work in raising $150,000 to preserve 105 upland acres around the perimeter of Eagle Pond in Cotuit.  Almost 30 years later, she was still at it, helping to raise $3.3 million to preserve an adjoining 22 acres.   In presenting the Chaplin Award to Anne, Compact Vice President Jaci Barton (no relation to Mary Barton)          described Anne's determined mantra in saving land: "Failure is not an option!"  Anne also served long terms as a board member of the Barnstable Land Trust, and led the group as president.  She has donated land to the Barnstable Land Trust and serves   as the honorary Godmother of Open Space in Cotuit.
(l to r: Anne Gould, Compact VP Jaci Barton)
2009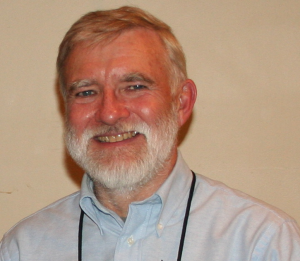 Henry Lind spent summers in Eastham all of his life.  In 1976 he became that Town's first natural resource officer, promoting shellfisheries and herring runs, serving as   harbormaster, responding to marine mammal strandings and implementing wetlands protection bylaws.  Henry has led the charge at Town Meetings to get the Town to buy more than 500 acres of open space through the time of his retirement in 2009.  He has served as President of the Eastham Conservation Foundation, Inc. almost since its inception in 1978.  That local land trust has completed 55 transactions preserving another 280 acres, in a community where there has been little land left to preserve between dense development and the Cape Cod National Seashore's presence.  "Henry succeeds because he is just as good with people as he is with land and water," says Robinson.
2010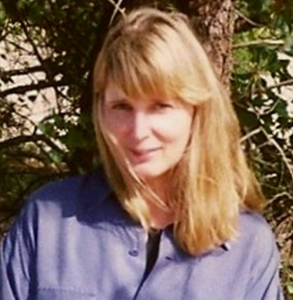 Celine F. Gandolfo served as the leading open space advocate in  Provincetown for more than a decade.  As former Chair of the Land Bank Committee and now President of the Provincetown Conservation Trust, she has guided all of the major town open space purchases,     including Shankpainter Pond, Nicky's Park, Foss Woods and Whistle Path Woods.  "My philosophy is that when an important habitat is threatened by development, we at least have to try, try to save it.  Her friend and State Rep. Sarah Peake says, "Celine has had the vision of creating the protected Greenway of open space stretching from the Truro line to Herring Cove. She realized this vision through her tenacity, hard work, by sharing her knowledge and enthusiasm for her vision with the townspeople.  She never takes her eye off the ball.  It is so important to me to listen to local experts like Celine."
2011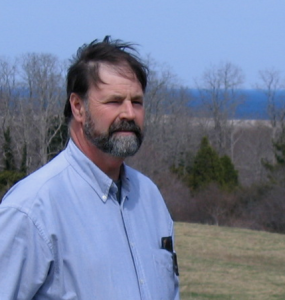 John Nye Cullity was the founder of the Sandwich Conservation Trust in 1985 and has served as its president since that time.  John quips, "I think it is the only land trust founded by a housepainter." Not only has the Trust preserved more than 220 acres under his leadership, but the Town has acquired more than 800 acres of open space at John's urging.  His family has preserved the historic Round Hill Farm with a conservation restriction.  The preserved miles-long network of hiking trails along Sandwich's morainal ridge is John's doing.  He is seen as an   inspiration to many in town who are concerned equally about its     habitats and heritage.  He is described variously as humble, passionate,   determined, honorable, unassuming, earnest and unfailingly positive.  One admirer says, "John is simply doing his best, preferring to work behind the scenes, to protect and preserve the place he loves."
2012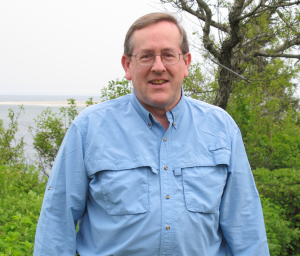 Andrew P. Young has been the go-to guy for open space in Chatham for the past 30 years.  Andy served on the Town Conservation Commission and as Selectmen, negotiating important town land purchases.  When Andy took over as President of the Chatham Conservation Foundation (CCF) in 1999, he served as a real bridge between the founders that had run the land trust for 30 years and the modern CCF that exists now.  For five years as President, he worked to broaden the CCF board and he reached out to create important alliances with the Town Hall and regional organizations.  Andy takes his volunteer responsibilities seriously and does his homework. He is knowledgeable, dedicated, and hard-working.  His leadership is characterized by intelligence, reason and respect.
2013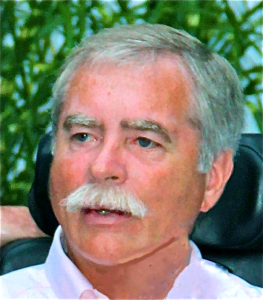 Robert F. Smith founded the Harwich Conservation Trust 25 years ago in 1988, the most recent land trust on the Cape.  A born and bred Cape Codder, Bob has diligently served as the only President the HCT has known, somehow managing to fit in a busy law practice on the side.  The HCT has thrived owing to the team chemistry that Bob envisioned long ago and he continues to inspire that still.  He creates a team of professionals and volunteers that know how to achieve goals with excellence in outcome and kindness in process.  The HCT has preserved more than 450 acres since its founding, been supported by 900 members and donors, has instituted the best educational series of walks and talks on the environment, recruited dozens of passionate land steward volunteers, established a visible headquarters staffed with well-trained professionals and established itself as a force for conservation in the community.  Bob died in 2015.
2014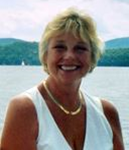 Barbara U. Birdsey grew up in Centerville where she developed her passion for nature and wildlife.  An icon of the Cape's wild care community, Barbara understands that individual animals cannot be saved unless there is habitat set aside and protected for them to live in.  She has given "work, wisdom, and wealth" to ensure both.  She founded the Orenda Wildlife Land Trust in 1986 to create sanctuaries; Orenda now protects 444 acres throughout Massachusetts.  She brought the US  Humane Society to the Cape to establish the Cape Wildlife Center, which admits 2000 animals each year for treatment.  She has worked on animal protection in Florida, the Southwest, and through the Caribbean.  Often described as "hands-on" or "down to earth", Barbara is known for being willing to do the dirty work of animal care. When poisoned gulls from the wildlife refuge in Chatham were dropping out of the sky, Barbara was there helping to end the suffering of individual birds. When Barbara sees a need in the environmental community, she says, "How can we help?"
2015
Richard A. Johnston is a long-time Dennis resident who helped to found the Dennis Conservation Trust in 1986.  He served as DCT President for almost 20 years and President of The Compact from 2000-2015.  Rich's other legacy as one of Boston's top lawyers (at Hale&Dorr, then WilmerHale) led him this year to become Chief Counsel to the Mass. Attorney General.  The DCT grew to preserve more than 550 acres under Rich's tenure, including the Town-Trust-State partnership that preserved the bulk of Crowes Pasture as Dennis' flagship conservation property.  Rich brought the same vision, leadership and collaborative approach through The Compact to other towns.  Rich often says that the Cape's local land trusts should not let any remaining natural acre go begging for want of action to preserve it.  Despite a laid-back manner, Rich is tenacious in wanting to see the best of the Cape's land preserved for all to enjoy, for all time.
2016
Peter Johnson is the Happy Warrior for open space preservation on the Cape (and before that in his native Connecticut River Valley).  As past President of the Brewster Conservation Trust, he energized the land acquisition program like never before and recruited dozens of volunteer stewards for land management tasks.  Landowners have a hard time saying no to Peter with his friendly, low-key approach; his mantra is "It never hurts to talk about conservation options."  Peter believes in activating local politics fo
r open space and environmental protection and he has helped the Town of Brewster to be a leader on the Cape on these issues.  He volunteers with the Cape Cod Museum of Natural History and the Town Community Preservation Committee.  He and his wife Eleanor donated a conservation restriction on prime waterfront land on Pleasant Bay.  Peter bleeds green.